Prepare yourselves for the intense thrills and experience of hi-performance Jetboarding, with our new MAKO Slingshot. Designed and hand-made in the UK with the care and precision you would expect, they are now available here in the UAE. Your fun times just do not get any better than this. The Slingshot has started a new generation of Jetboarding. What better way to have your fun in the sun? Within their sleek and efficient carbon fibre hulls, the Slingshots' profile conceals the most sophisticated and innovative engine and aerospace manufacturing technology, available. Tried and tested to extremes, they will give you blistering power, exactly when you need it, while still being reliable, easy to use, control and maintain. Their power is created by an XT100 2-stroke engine with a hi-rev jet drive, combined with an axial flow impeller, it produces electrifying thrust and acceleration up to speeds in excess of 50 kph. Joined to a V-hull with state-of the art hydrodynamics, you know that these boards will respond precisely and predictably to each and every rider's control command or shift of weight – whatever your skill level. One important feature is that they are light – just 20kgs. You can take them with you anywhere, by car, boat or plane. These boards will bring you the ultimate and unforgettable Jetboarding experience – every time. Easy to ride. Easy to transport. A joy to own.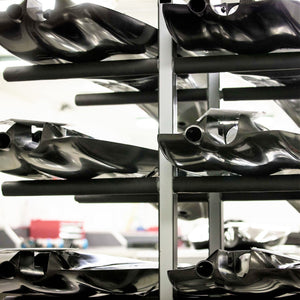 Precision manufactured in the UK.
Carbon fibre MAKO Slingshots are here and  ready to take on the World of Jetboarding. Built tough. Built to last. Fast, sleek & agile, with g-force cornering they are simply amazing and provide immense, easy-to-use fun. It's a lifestyle - with a growing community.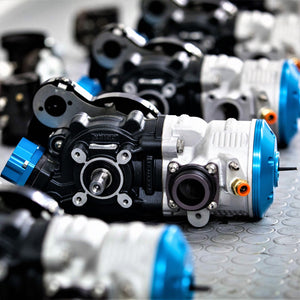 Powerplant perfection!
Rotron XT100 2-stroke engines, high torque, instant response, double-reflection sonic supercharged, with pre-tuned precision jetted carb.  The massive thrust is the heart of the MAKO. The Jetboard standard has been set!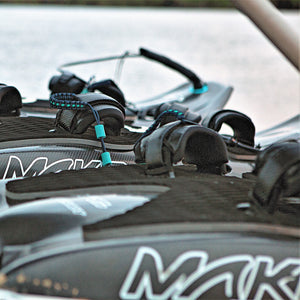 Conceived & designed as a single structure, the Slingshot monocoque hulls, provide that real short-board feel. Narrow at the high nose, wider in mid-section, the angled -V  bottom ensures really fast take-off with a superb, loose feeling for throwing down your turns.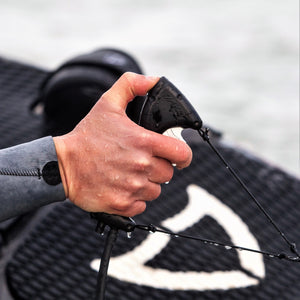 Control is in the palm of your hand, using the ergonomic handheld throttle: it is the secure link to your board. Simple start-stop ignition is by a single button – on land & water and  the combined, intuitive trigger allows for perfect speed control, exactly as you choose. Go with the flow!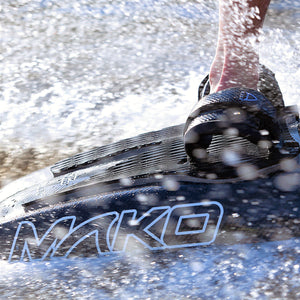 Every detail about the MAKO has been created for precision, perfection, control and ease of use. 4 pads, side hull carry points, cushioned engine cover are standard. Each unique inclusion will encourage the widest smiles from the boards' new owners.
These carbon fibre boards are light, so they can be taken everywhere  – by car, train, boat or plane. Easy to use and simple to maintain, they come complete with carry case, tools, stand, user manual, accessories, access to local support and an authorised workshop. Just imagine yourself on this beach!